Acres: 86,030 Containment: 50% Personnel: 1,810
Resources assigned includes 45 crews, 14 helicopters, 74 engines, 8 dozers, 34 water tenders, 7 masticators
There will be two community meetings

tonight

, Friday, August 19th, to provide a fire update and answer questions. The meetings will be in Crouch at

7 p.m.

at the Crouch Community Hall and in Centerville at

7 p.m.

at the Fire Station.
Hot and dry weather combined with steep terrain continue to challenge crews along the western flank, northeast of Pioneerville. The fire continues to actively burn to the southwest, and crews are looking to use existing roads to contain fire spread.
Structure protection measures including portable water pumps, sprinklers and hose are in place for residences in the Grimes Pass Road area and Pioneerville. Night structure protection crews continue to see active fire through the night.
Heavy vegetation and steep terrain are limiting the use of equipment, requiring a heavy commitment of crews and aviation resources to meet containment objectives in the area northeast of Pioneerville. Impacts from smoke produced by the fire will continue to affect Idaho City, Lowman, Garden Valley and Stanley.
Firefighting efforts in the Clear Creek drainage are focused on preparation of Clear Creek Road as a fuel break, and protection of the Long Creek Summer homes. Engines patrolled Clear Creek Road overnight monitoring fire activity. Firefighters are prepared to start firing operations, if necessary, to protect homes in the area.
A dry cold front will drop into the fire area
Friday
afternoon bringing cooler conditions and north to northeast winds. The weather will remain dry, therefore very low humidity will continue around the fire area.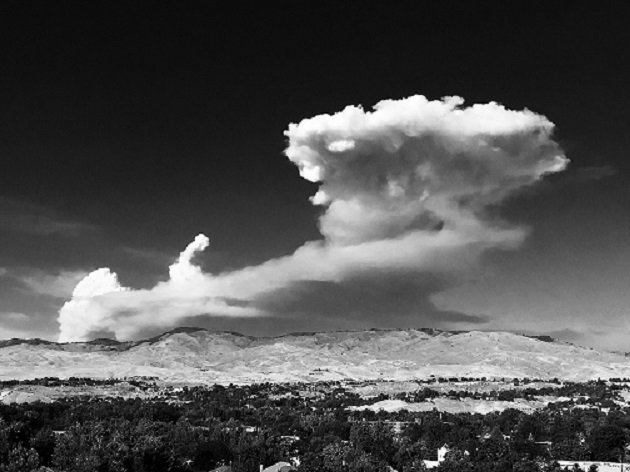 The Boise County Sheriff updated the evacuation order yesterday from Level 1 to Level 2 for residents along the South Fork Road, east of Grimes Pass Road, and the Banks Lowman Road, east of Danskin Station.
All properties in the Lowman area and Pioneerville are under a Level 1 evacuation order, except along Forest Road 582 (Bear Valley Road) which is in Level 2 evacuation status for the Long Creek Summer Home area until further notice.
Highway 17 remains closed in the fire area, but is open from Banks to the Danskin boat launch, which is also open.