A community meeting will be held tonight at the Lowman Emergency Services Building near milemarker 80 east of Lowman at 7 p.m.
Acres: 71,190 Containment: 40% Personnel: 1,829
Resources assigned includes 48 crews, 9 helicopters, 58 engines, 15 dozers, 26 water tenders, 10 masticators
The head of the fire continues to slowly spread north in the Deadwood River drainage in steep terrain dominated by grass and brush with interspersed pockets of timber. Firefighters have been clearing vegetation and digging to create indirect handline on the ridge above Gallagher Creek in preparation for possible burn-out operations. Fire managers continue to look for opportunities to directly suppress the fire from Deadwood Ridge. The Clear Creek Road continues to be prepared as a contingency containment line by widening it and thinning trees along the road.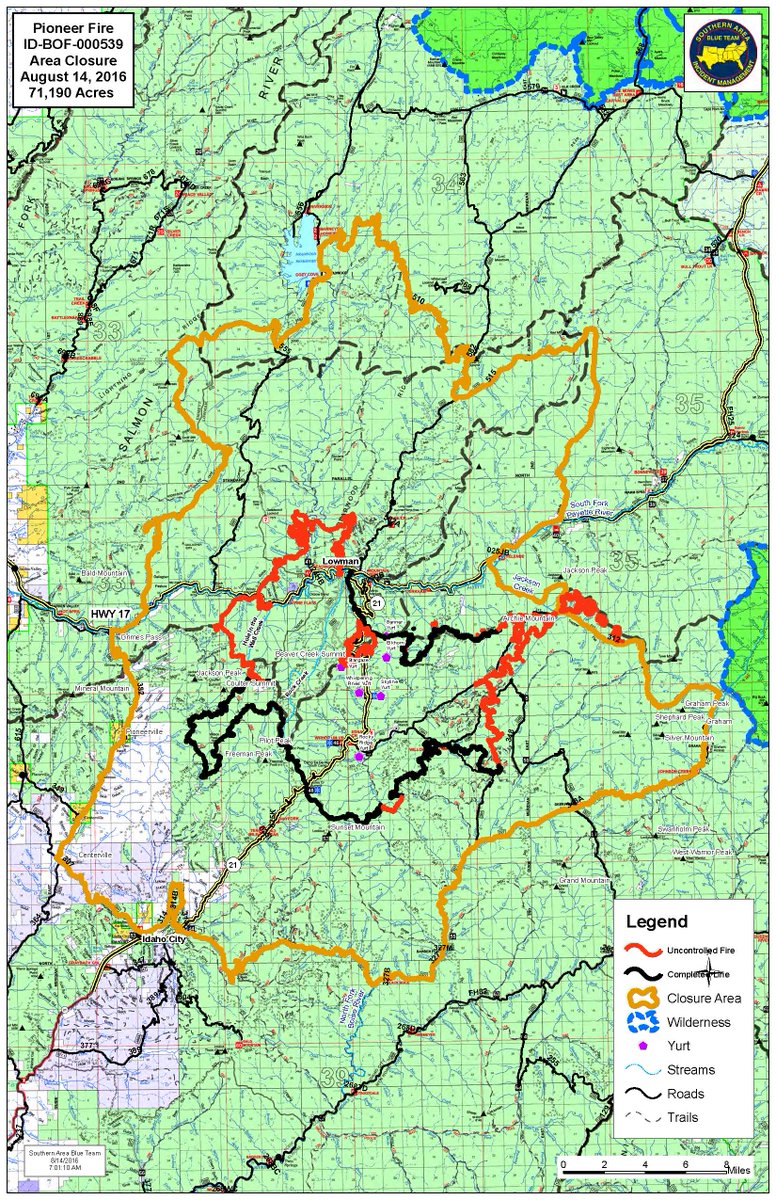 A large column formed late Saturday afternoon as the fire moved through dense, dry fuel in the Hole in the Wall drainage. The fire remained within the containment line through the evening. As a precaution, the
Boise County Sheriff issued a Level 1 evacuation order last night for homes east of Grimes Pass Road, on the south side of the South Fork Payette River due to increased fire activity along the western fire perimeter. Level 1 evacuation policy for Boise County warns persons "that current or projected threats from hazards associated with an incident are severe." Also, the community of Lowman remains under a Level 1 evacuation.
Crews continue to secure the fire's containment lines near Lowman and areas west along Highway 17 to Garden Valley. The fire remains fairly active and continues to move to the north and west of the community. Firefighting crews also continue to hold the containment line
along the northeast perimeter and near the Jackson Peak Lookout.
Hot and dry conditions will continue Sunday through Tuesday with increased fire activity. There is a slight chance of thunderstorms during late Sunday afternoon and evening. Winds will shift to the southwest on Sunday with gusts to 25 miles per hour along ridgetops.
Firefighters in the past 24 hours have responded to two illegal campfires. Campfire restrictions remain in place within the Boise National Forest. Campfires are only allowed in developed campgrounds in agency provided structures.